Black Bucket Surf Hat
(해외배송 가능상품)
기본 정보

| | |
| --- | --- |
| Product | Black Bucket Surf Hat |
| Price | $49.54 |
| Product Code | P0000NZM |
| 수량 | |
| Review | 0 |
| Additional description | Go out in the sun when you got this handy surf hat at hand. It features a round crown, grommets, seamed panels, a text accent in front, a floppy brim, a side release clasp strap, and a drape at the back. This hat is nice teamed with your rash guard and mini shorts combo. |

Product Details
Note
* The size may differ by 1~2cm depending on measurement methods.
* The color displayed may vary depending on your screen.
* The measurements provided on this page state the actual garment dimensions, and the size label attached on the garment refers to body size.
* Women: Sizes available from XS-XL. Choose according to personal preference.
* Men: Sizes available from M-XL. Please refer to size chart before purchase.
Measurement
Size
Circ.
Height
Brim Length
Neck Cover
ONE SIZE
59cm /
23.2in
17cm /
6.7in
6cm /
2.4in
32cm /
12.6in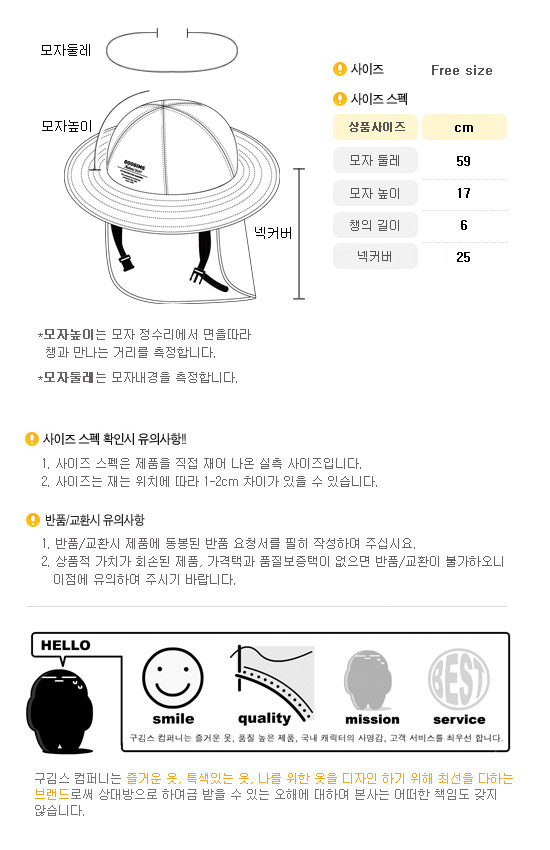 There are no posts to show
There are no posts to show
CUSTOMER CENTER
1644-9055
en@goofa.cafe24.com
mon-fri am9:00 - pm6:00
sat,sun,holiday off
PAYMENT METHOD
 
PayPal : welcome@googims.co.kr
KB Bank : 065968-09-100173
Payable To: FELIX KIM & REGGIE JIN Inc.
COMPANY INFORMATION
Corporate Name : FELIX KIM & REGGIE JIN | Representative: Jinseong Kim
Business Registration Number: 209 81 42381 | E-commerce Permit: 2014-Seoul Sungdong-0885
Privacy Manager: Kim Jinseong(service@googims.co.kr)
Contact: en@goofa.cafe24.com for more information.
Copyright © 2015 FELIX KIM & REGGIE JIN Inc. All rights reserved.